Types of Commercial Concrete
As a leading concrete installation company, we offer decades of experience for identifying and installing the type of concrete you need for your commercial or industrial project. There are many types of concrete to choose from, but our pros are here to help you tackle any project, no matter how large or challenging, through our turnkey services.
Concrete is a mix of water, a binder (like cement or asphalt), and aggregates (like rock or sand). However, there are many ways to customize the concrete to your specific project. For instance, you may need stronger concrete options for tilt wall construction than you would for paving a parking lot. Our team can help you determine which concrete is ideal for your project.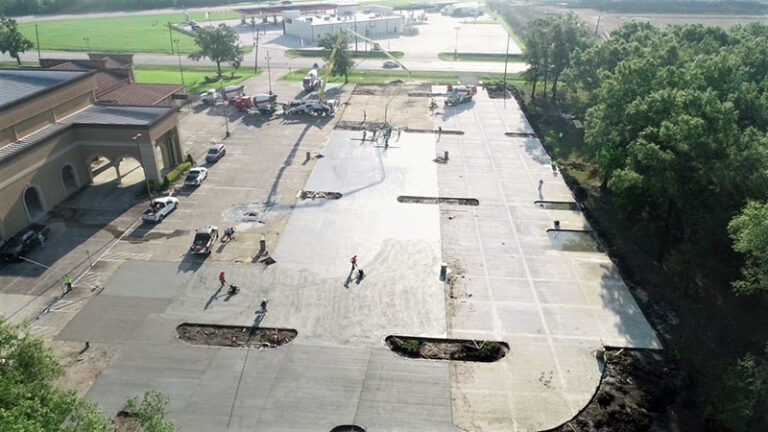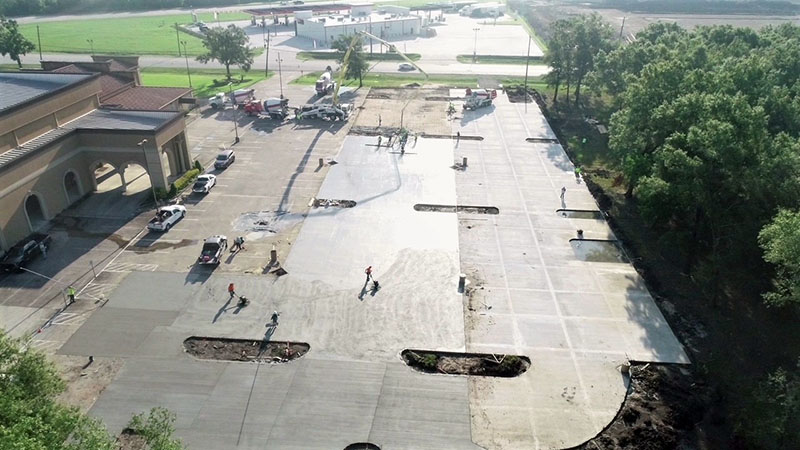 Plain Concrete
Lightweight Concrete
Asphalt Concrete
Stamped Concrete
Plain Concrete
Plain concrete is just a mix of cement, aggregates, and water. However, there are several ways to customize these concrete formulas, such as adding more or less water, or using different aggregates. This option is good for general commercial concrete applications, such as flatwork for sidewalks.
Plain concrete can be normal strength, between 10 and 40 MPa of compressive strength, which is suitable for most commercial concrete construction. However, with the addition of chemical admixtures, our team can achieve high strength concrete, which offers strength exceeding 40 MPa. High strength concrete is commonly used for things like columns and foundations in high-rise buildings. However, high strength concrete can take weeks to reach full strength.
In cases where you need strength quickly, rapid strength concrete is a good option. This type of commercial concrete gains high strength within just hours. It's commonly used for concrete repairs on key infrastructure, like sidewalks and parking lots for commercial facilities.
For concrete installation projects that require precise formulation, ready mix concrete is the ideal option. This involves precisely measuring and adding the ingredients for the concrete in a plant and mixing it in a cement mixing truck while on the way to the construction site. Ready mix is the most popular option for large commercial and industrial projects that require high volumes of specifically formulated concrete.
Lightweight Concrete
Asphalt Concrete
Stamped Concrete
Trusted Concrete Installation Company
No matter what type of concrete you need for your property, you can trust our team of experts. We are a concrete installation company with years of experience providing top quality solutions for commercial and industrial needs.
Our team offers turnkey solutions for your concrete project, from performing the sitework and excavation to putting the final touches on your decorative concrete. When you choose our pros at Aggtech for your concrete installation needs, you know you get the benefit of decades of experience and unmatched craftsmanship for your property.
Contact us now to request an estimate for your concrete construction project.