Turnkey Commercial Concrete Construction Company: Sitework & Excavation
As a leading turnkey commercial concrete construction company, we offer comprehensive sitework and excavation services for your concrete project. Whether you need to replace old, damaged pavement or need a brand new concrete slab, we have the experience you need for success.
Excavation and sitework is an essential part of any concrete construction project. This prepares the ground for the concrete surface and everything it will support, whether it be a building, cars in a parking lot, or people walking on your property. There are several parts to any sitework phase, and our team manages them all for quality service and to reduce the hassle of finding a sitework subcontractor.
Sitework for a new concrete surface generally begins with clearing any vegetation and excavating any excess rocks or soil. During this time, we also tie in utilities and create any necessary underground drainage infrastructure, such as stormwater detention systems. Then, our team follows up with grading to ensure we have a smooth, level surface to pour the concrete onto. However, it's also essential to thoroughly tamp down the soil to prevent it from shifting underneath the concrete slab.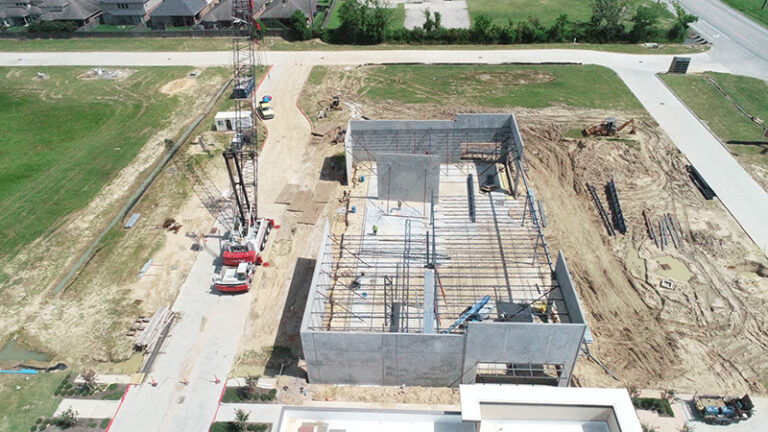 Improperly performed sitework can create many issues with your concrete structures. In fact, one of the most common reasons for needing to replace a concrete surface is due to poor sitework initially. If you have sagging, leaning concrete slabs with extensive cracks or spalling, then you likely need concrete replacement, as it's usually a sign that the ground underneath is shifting and causing the damage. This type of damage is generally beyond normal concrete repairs. Fortunately, our team can take care of this for you as well. The first step is breaking up and excavating the old concrete before reperforming quality sitework and pouring a new concrete slab.
Our team provides services you can rely on for quality, durability, and longevity. We take pride in our workmanship, so you get peace of mind that when you hire our turnkey commercial concrete construction company, you receive superior service and project management.
Unparalleled Concrete Services from Aggtech Concrete
When you need concrete construction, hire our experts at Aggtech Concrete. We offer years of experience and have worked on a wide variety of projects, large and small. Our turnkey services include everything you need to complete your project from start to finish, from the sitework to the finishing touches.
We specialize in ground-up concrete construction. Our premier team offers unmatched precision, craftsmanship, and quality control for your project. We utilize state-of-the-art machinery to provide efficient sitework that meets our high standards. Our goal is to save time, money, and provide you with the best quality concrete services around. With every project we take on, we are committed to meeting and exceeding your expectations.
Contact us now for a free project estimate for your concrete construction needs.