Asphalt Paving Solutions from Aggtech
We offer a wide variety of services to take care of each part of your project, including experienced asphalt paving services. Our team offers asphalt installation using the finest materials available and a commitment to high quality results. From paving to parking lot striping, we are here to make asphalt installation simple and cost-effective.
Asphalt works in a variety of applications and is often used for parking lot paving, walkways, and bike paths. It is made of aggregates like rock as well as bitumen, which is a byproduct of petroleum. Many people prefer asphalt paving for parking lots and roadways because it often offers a smoother ride for cars than concrete.
Asphalt is also an economical choice for many applications. Typically, the upfront costs are lower compared to commercial paving concrete services. It is also a long-lasting paving material, lasting up to 15 years before needing resurfacing or replacement. Also, bitumen is a slightly springy material after it hardens. This added flexibility not only makes it smoother to drive on but can also help prevent cracking from soil settling.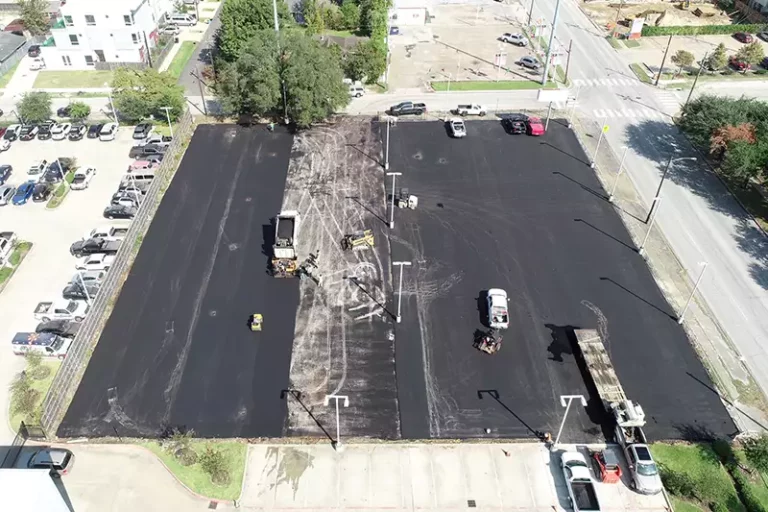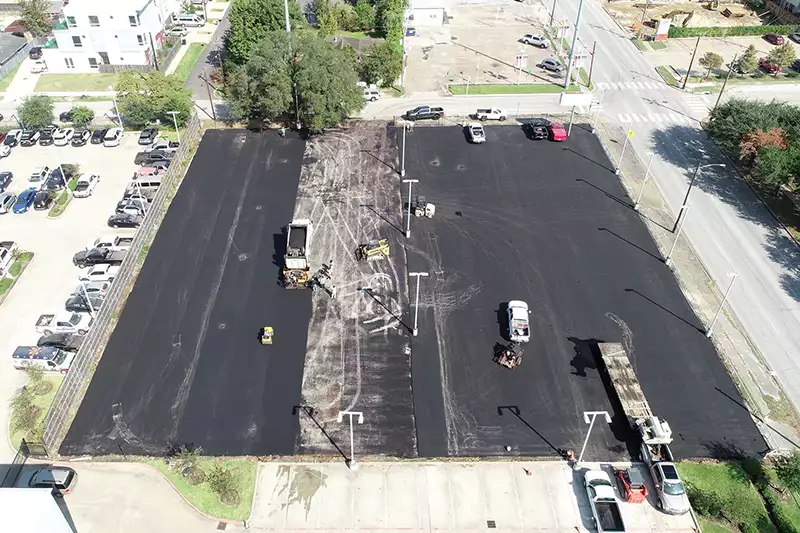 Another advantage of using asphalt for your commercial or industrial project is that it is quick to cure. While new concrete can take up to one week to set, asphalt may take as little as 48 hours to cure. If you use recycled asphalt, then it can take just 24 hours to set. That means your new parking lot, dumpster pad, or walkway is available to use in just a few days. Therefore, there are many reasons to choose asphalt as your commercial paving solution.
Our experts can help you determine if asphalt paving is the right solution for your project. We can help you determine the most cost-effective and practical paving option for your commercial or industrial project.
Unmatched Service and Turnkey Project Management
We are proud to offer turnkey service to our clients throughout Greater Houston. When you need asphalt paving or concrete installation, we offer end-to-end services to completely manage your project. We offer everything from pre-project estimating to help you create a budget for asphalt or concrete installation, replacement, or repairs. Our experts also take care of all the necessary sitework and excavation for long-lasting, durable paving.
Asphalt is a highly customizable pavement option by using a variety of mixes and aggregates. We find the right mix for your project to ensure it perfectly suits your needs. Our team will sit down with you to discuss your goals and the details of your project to determine the best course for paving. For truly superior and turnkey service, get in touch with our experts today. Contact us now for a free project estimate for asphalt paving.