Specialty Commercial Concrete Services
Our services go way beyond concrete pouring. We also offer specialty services to create the finishing touch for concrete throughout your property. Whether you need concrete cutting, steel bollard installation, concrete floor staining, or signage bases, we are your single source for top quality services.
Commercial Concrete Contractor: Concrete Cutting, Drilling, and Coring
Our premier concrete specialists offer skilled concrete cutting, drilling, and coring services for your needs. Concrete is one of the toughest materials available, which makes it difficult to cut into. Not only do you need special tools, but also industry knowledge to properly cut, drill, or core concrete surfaces. You can depend on our team to provide expertise for concrete cutting.
There are many reasons you may need to cut into concrete surfaces on your commercial property, including creating:
Expansion joints
Openings for doors and windows
Holes for plumbing installation or repair
Openings for electrical repairs
Holes for drain grate installation
Spaces for HVAC equipment and ducting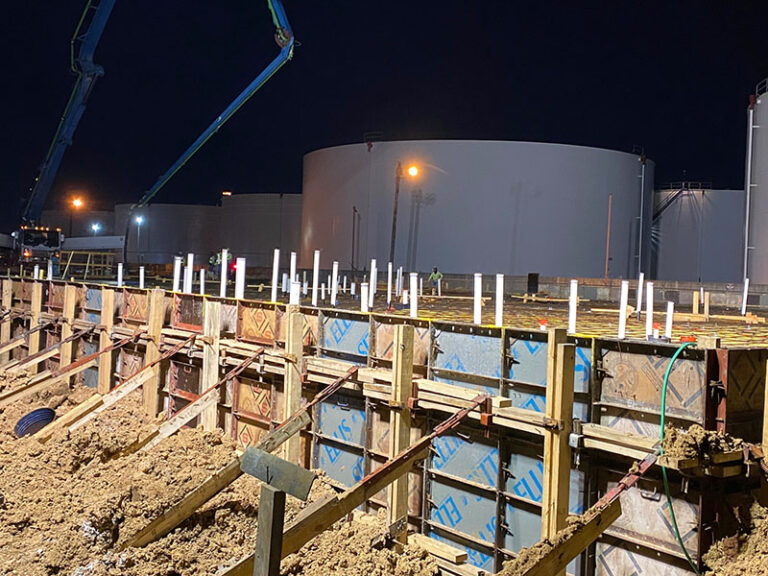 As a top commercial concrete contractor, our team provides all the services you need to keep your concrete in good condition.
Steel Bollard Installation in New and Existing Concrete
Steel bollards are an important part of security and safety for many commercial and industrial properties. These are steel poles that create a barrier between vehicle and non-vehicle areas. For instance, they are frequently used to separate parking lots from walkways. Steel bollards can prevent vehicles from crashing into buildings, pedestrians, and other similar areas.
Our team offers experienced steel bollard installation in new and existing surfaces. You can install bollards in both concrete and asphalt, depending on your paving preferences. From pouring a new base for the bollard to ensure heavy-duty strength to drilling the holes in existing concrete for the bollard bolts, our team handles each step of this project to help you increase safety on your property.
Acid Etch Stains for Concrete Flooring
Concrete floors are a tough flooring option that can withstand significant levels of traffic from both people and machinery. However, many people want more aesthetic options than plain concrete for the flooring in their commercial buildings.
One of the specialty services our team offers is acid etch staining for concrete floors. Acid etch stains penetrate deep into the concrete to stain it the color of your choosing. The result of acid etch stains is completely unique to your concrete floor, much like the wood grain hardwood flooring. One of the great benefits of concrete acid etch staining is that it is permanent and will not chip or wear off over time. Instead, it provides lasting aesthetic appeal for your building
As concrete experts, we understand the need for appealing, durable flooring in your commercial building. That's why we offer skilled concrete staining services to provide a final touch for your concrete floors.
Commercial Concrete Contractor for Signage Installation
Signs provide important information and advertising opportunities on your property. We work with signage contractors and property owners to provide a durable base for a wide range of signs, including monument signage, pylon signage, and parking lot signage. Our team can design and pour concrete bases to provide a sturdy structure that will keep your sign secure. We collaborate with all contractors involved in a sign installation project so you can rest easy knowing our team is on the job.
Turnkey Commercial Concrete Construction Company
Our seasoned professionals at Aggtech Concrete provide comprehensive commercial concrete services for your needs. From removing old, damaged concrete to finishing concrete floors, our customers can rely on us for high quality, friendly service. We aim to serve you by providing turnkey services for any concrete project, large or small. Our team will handle every phase of the project so you can focus on more important things. Contact us now to get a project estimate for your concrete needs.