Commercial Concrete Paving Services in Houston
Get comprehensive commercial concrete paving services from our expert team for everything from your parking lot to your building entrance steps. We offer premium service at cost-effective prices for all your
concrete construction
needs. Whether you need concrete flatwork for a new build or need to repair or replace aging concrete structures, we are your number one concrete paving company in Houston.
Having plenty of parking is a necessity for most commercial properties. Our team is here to ensure you have a durable, long-lasting, and easy-to-navigate parking lot for your property. We provide a wide range of services for parking lots, including parking lot paving to install or replace a concrete parking lot, striping and restriping services, and parking lot concrete repair, as well as creating and installing wheel stops to prevent cars from moving into walkways and unauthorized areas.
Concrete parking lots offer many benefits, such as:
They last a long time, about twice as long as asphalt lots
Concrete reduces the heat island effect because it reflects more heat than asphalt
These lots do not soften in extreme heat like asphalt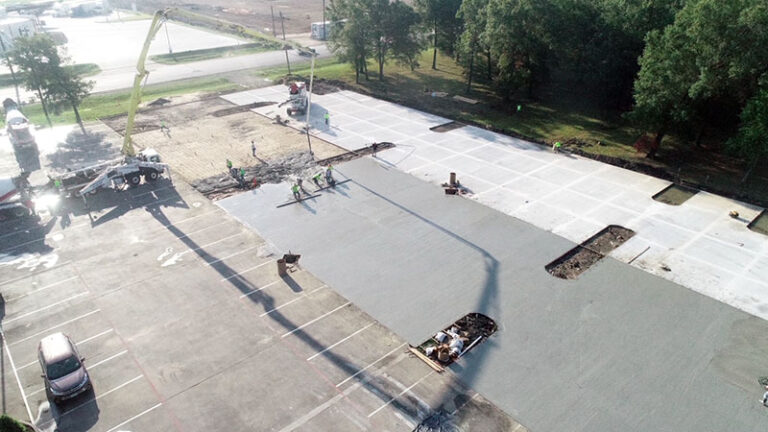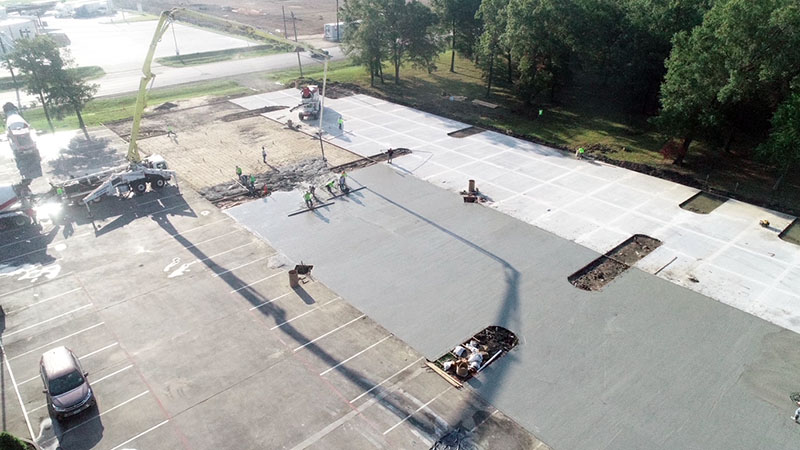 Our team can also help you design parking lots that comply with ADA standards. Parking lots are one of the common ADA violations for commercial buildings. There are several standards that affect the design and construction of your parking lot. For instance, you must include accessible parking spaces as well as a safe access aisle that provides a route from the spaces to the building entrance. Our team can provide parking lot restriping for ADA compliance as well as creating concrete flatwork to create accessible walkways through your parking lot.
Sidewalks and walkways are another essential part of any commercial property. These provide routes for people to walk to and from your building without damaging landscaping features. They also provide better traction to prevent slip and fall accidents and the concrete also provides a more even surface for wheelchair users to navigate. Sidewalks must also feature accessible ramps to allow for easy access for wheelchair users.
Our commercial paving concrete services provide end-to-end solutions for your sidewalk installation or replacement needs. We can help design sidewalks that comply with all applicable codes, including those from the City of Houston as well as the ADA. Our experts are here to ensure you receive compliant, long-lasting concrete paving for your commercial or industrial property.
Our commercial concrete experts also provide concrete stairway design, installation, and repair for your property. Stairs also face many regulatory requirements, such as the width, riser height, and more. Our seasoned professionals offer extensive knowledge on all applicable codes for steps and stairs to help you create a functional and compliant property.
In addition to steps and stairs, our team also installs wheelchair accessible ramps to ensure you meet accessibility standards set forth by the ADA. Ramps must follow many specific standards, including rules for slope, width, and safe edges. Get peace of mind that your ramps and stairways are accessible and code compliant when you choose our team for your concrete construction needs.
Expert Concrete Installation Company
When you need concrete paving and concrete installation for your commercial property, choose our team at Aggtech. Our services are backed by years of experience in the industry as well as a commitment to providing superior quality service for projects of all sizes. We are your turnkey commercial concrete installation company offering ground up services to fit your needs. Get in touch today to
get an estimate
for our commercial paving concrete services.